Heidi Hauver & Harrison O'Sullivan Consulting
As Heidi Hauver transitioned from vice president of human resources for global IT services company Pythian to running her own HR consulting firm, she needed a way to establish herself as someone with a track record of creating positive change within HR to give Harrison O'Sullivan Consulting the cachet it needed to attract clients.
Challenge
Despite her years of experience in the HR field, Hauver was charting unknown territory as she tried to get her new company, Harrison O'Sullivan Consulting, off the ground. In addition to launching a new business, Hauver had recently given birth to a child, so she had to balance the immense pressures of entrepreneurship with caring for a newborn baby, she says. Friends and family could assist with her kid, but she would need another ally to help her company along.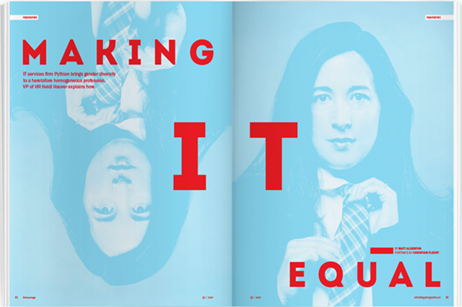 Solution
When the opportunity to partner with Advantage magazine arose, Hauver recognized it as a great way to showcase her HR accomplishments at Pythian, build trust among potential clientele, and recruit talented personnel to build up the business. The story was published in January 2017, the same month she officially launched her new company.
To maximize the article's value, Hauver tailored her feature's message to a niche audience of senior-level business executives who are interested in improving their companies' HR strategies.
Hauver worked with Advantage magazine's creative team to craft a story that emphasized her accomplishments. Her feature in the magazine highlighted several HR initiatives she spearheaded at Pythian to promote women and people of color at the company.
Hauver's article was also results-focused, including several statistics that demonstrated how her initiatives had a positive impact on Pythian's staffing practices. This allowed her to position herself not only as someone with innovative ideas, but as someone who gets things done, she says.
Outcome
"Working with Advantage, I was able to leverage the great work we were doing [at Pythian]," Hauver says. "I felt like everything was taken care of for me. I simply had to come to the table with what mattered to me, and the rest was handled."
As clients began to see Hauver's body of work outlined in the article, and as she collaborated with her existing network of contacts, Harrison O'Sullivan's customer base began to grow. In fact, it's getting to the point where there's too much work for Hauver and her small team to complete on their own, she says. She plans to use her Advantage magazine feature as a recruiting tool to catch the attention of other HR professionals ready to make a difference in their field. Hauver has the article posted on Harrison O'Sullivan's website so job seekers can learn about her previous work and entice them to join her team.
As she tackles the new challenges Harrison O'Sullivan has presented her, Hauver has found the exposure from Advantage to be a valuable asset on her journey to share her knowledge, widen her network, and build her new company into an influential voice of the human resources industry.