Jason Brown's 3 Simple Ways to Find Success
At the second OpenWork event, Dyson's Jason Brown shares actionable lessons to grow in your career and in life
by Frannie Sprouls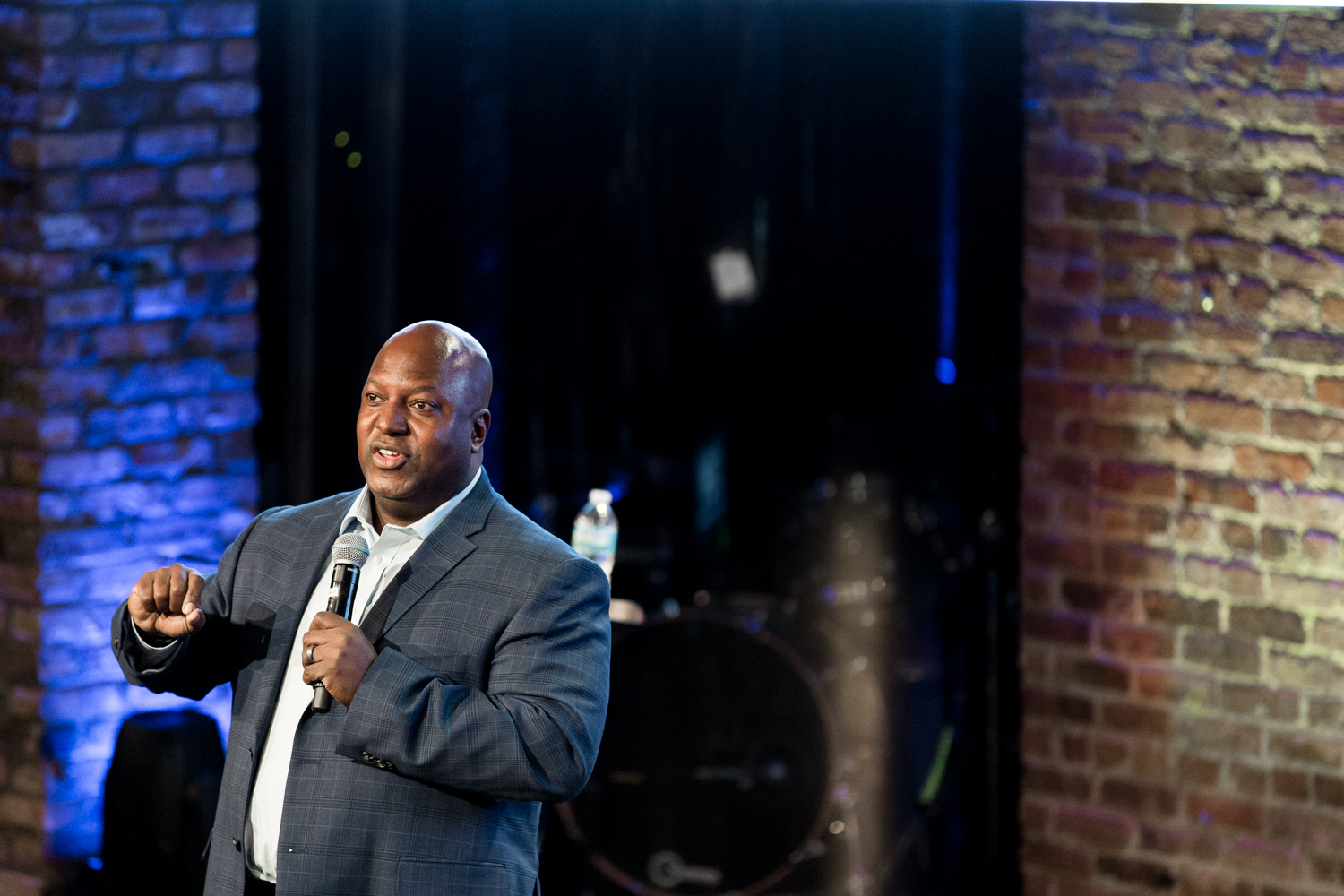 OCTOBER 3, 2018—Ross Weisman, partner at Kirkland & Ellis, stood on stage to introduce OpenWork speaker Jason Brown. He shared a glimpse into his and the firm's relationship with Brown, Dyson's general counsel for the Americas, who requires Kirkland to provide him with diverse teams.
"Oftentimes as outside counsel, you're supposed to be teaching in-house counsel about the various legal issues," Weisman told the audience. "I find myself all the time learning from Jason about law and about life."
It was the perfect way to introduce Brown, who was the second speaker for Guerrero Media's OpenWork speaker series. OpenWork is a new way to bring Guerrero's mission of recognizing, promoting, and developing great executives to life. More than eighty Guerrero employees and clients filled the auditorium to hear from Brown on a warm October day in Chicago.
Brown highlighted three lessons about his perspective on life, work, and how they come together.
#1: Embrace the opportunity for teachable moments.
Teachable moments can be obvious, like a tragic event, Brown said. Or they can be very small, like what and how you say something to someone.
He told a story about a teachable moment that happened to him during his first year out of law school, working in his hometown of Minneapolis. He was out to lunch with one of his colleagues (another African American, first-year lawyer) and on the way back, they were waiting at a crosswalk with two young, black girls. One of the girls asked them if they were going to church. Brown said no, they worked in the building across the street. "She had this look that was confused; she didn't understand it," Brown recalled to the audience.
The two didn't say anything more, or about the moment, until they were back in their office. Brown's colleague came up to him later, saying that he couldn't believe they didn't do anything and that they had the opportunity to change the mind-set of those young girls.
"That was a big moment for me," Brown said. "In life, you consistently get opportunities thrown to you to allow you to make an impact. Sometimes those moments are quick. If we're not ready for them, we'll miss out on a golden opportunity."
#2: Fail like a champion.
For Brown, failure is a critical part to success. Any success story, he told the audience, is riddled with failures.
He told the audience about his time in high school as a track and field athlete. His older brother was the fastest person in Minnesota and, at the state tournament, both were on the 4×100 relay team. Brown was excited to get a bit of the glory that his brother, who was the 100-meter champion, got.
"The race starts, and I'm the second leg," Brown said. "When the baton got to me, I felt this jolt of energy. I took off, and saw no one next to me. I gave so much that I left the baton in the middle of the track."
That mistake caused the relay team to come in last. "That pain hit me right away," he continued. "I failed, and in front of all these people. I felt I failed my brother, which made it worse. My coach said, 'There's nothing to make this feel better. But this moment is probably going to make you the best athlete next year.'"
Brown said he dedicated himself to never making that mistake again. When you win, you never pay attention to what got you there, he added.
"It's important for you to share your failures. You talk about them; you study them," he said. "Some people think vulnerability is a flaw, but I think it is an asset. It shows you're human, and your capacity to grow. Sometimes when you fail like a champion, you will emerge as the ultimate victor."
#3: Avoid work/life balance.
Brown is not a fan of the phrase work/life balance. Why? He doesn't think it works.
It's very difficult to look at work/life balance like a scale, and making the scales "even" doesn't work because eventually, he said, something has got to give. "For me, it's more about being your whole self. Think of yourself as one whole person and not two separate people."
It's about taking a different perspective, Brown said. Each day, look at what you get to do and what you have to do. It was a lesson he learned from his daughter when she was six.
Brown was packing for a work trip, and she was going on a field trip the next day. As he was packing, she asked him about his trip and he was not enthusiastic about it. On her field trip, she told him, she would get to ride the bus, hang with her friends, and maybe get ice cream. So she asked him: Don't you get to ride on a plane? And go to a hotel? Order room service?
"I thought about that," Brown said, "and I realized, that's a cool way to think about life. I'm going to focus on the things I get to do versus the things I have to do. I want to make sure that in my life, the things that I get to do outnumber the things that I have to do."
Before Brown left the stage, he left audience members with a quote from his favorite author, Maya Angelou: "I've learned that people will forget what you said. People will forget what you do. But they will never forget how you made them feel."
For more photos from the event, visit the Guerrero Media Facebook page. All photos by Gillian Fry.