Latino Legacy Fund
Aixa Beauchamp believes everyone can achieve great things if they're given the right support. As cofounder of the Latino Legacy Fund, Beauchamp puts this belief to work with the goal of raising $1 million for the fund to start investing in causes that support Latino individuals in her community by promoting Latino-led and Latino-serving initiatives.
Challenge
Beauchamp wanted to spread awareness of Latino organizations such as the Latino Legacy Fund—a partnership of Latino philanthropists and leaders, to promote the well-being and socioeconomic advancement of the Latino community in the Greater Boston area—and the impact they have on the people they assist. Ultimately, she wanted to create a network of like-minded groups that could aid and bolster one another across the country. To do that, Beauchamp needed to raise awareness of her mission on a large scale. She reached out to local broadcast and print media outlets in the Boston area, and she had success getting featured the Latino Legacy Fund featured in many of these publications. Despite the publicity from these stories, the fund wasn't garnering the type of financial support or recognition Beauchamp was hoping for. She began looking for something that could give her organization more exposure.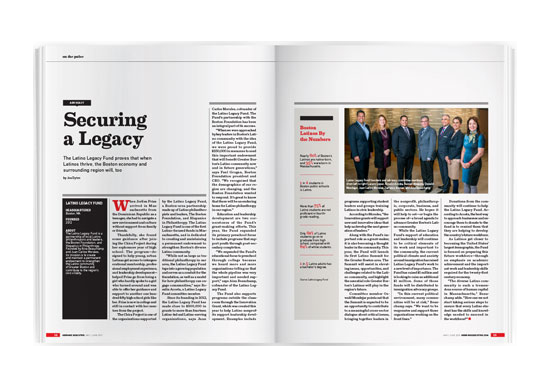 Solution
Beauchamp recognized the opportunity to get featured in Hispanic Executive magazine as a prime chance to reach a huge audience of Latino executives and professionals on a national level. She felt that bringing her message to Hispanic Executive's readership would benefit her cause in multiple ways. Beauchamp wanted to make her case to Latino professionals because she felt that this group had the influence, resources, and a personal connection to issues that affect Latino individuals. Hispanic Executive's audience is largely made up of that demographic, so Beauchamp felt like the publication was well-suited to her specific goals.
Beauchamp also wanted to inspire other Latino leaders who run similar groups to reach out to her and form partnerships. Beauchamp believes that organizations such as the Latino Legacy Fund can make an even greater impact with a network of peers aiding their cause, she says. By telling her story to Hispanic Executive readers, Beauchamp knew she could rally others around her objectives.
Outcome
Beauchamp's feature in the magazine helped her achieved her goal of spreading awareness in several ways, she says. "Now when people Google me or Google the Latino Legacy Fund, the article is the first thing beside our partner, The Boston Foundation website, that you get," Beauchamp says.
But landing on the first page of Google search results wasn't the only thing Beauchamp's article accomplished for her. After the article's publication, a member of The Boston Foundation made a $100,000 donation to the Latino Legacy Fund.
Hoping to build off the success of her first feature, Beauchamp has again partnered with Hispanic Executive. She will leverage her upcoming story to show the power of fundraising and how effective the Latino Legacy Fund has been by utilizing its donations to help Latino professionals in Massachusetts. Beauchamp wants to inspire readers to donate to her fund or support similar organizations in their area to continue building the strong network of Latino professionals nationwide that she has always envisioned.