My Private Vista
Private Vista, a financial planning and investment management service provider, was newly formed with a vision of addressing a void in the wealth management industry. The firm needed its website—specifically the photography on the site—to reflect its new identity.
Challenge
When Financial Strategy Network (FSN) and WNA Wealth Advisers combined to address a void in the wealth management industry, Private Vista was created, offering deeper and broader resources for implementing financial strategy.
Partner Jim Weil realized quickly that a new website was the best way to explain the company's expanded service offerings and clearer vision. Private Vista's goals are to help clients achieve financial fulfillment by working closely with the firm's staff members, so a key element to the website was custom portraiture of the staff. The way staff is portrayed online is often a potential client's first contact with the company, so staffers needed to be viewed in a way that made them approachable and matched the professional-yet-fun tone of the website, new product offerings, and expanded company vision.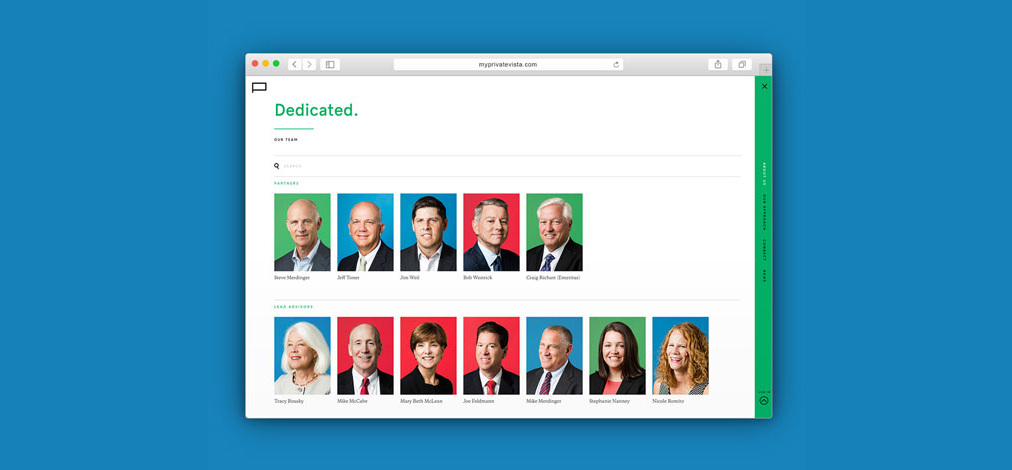 Solution
Private Vista turned to Guerrero Howe's custom photography services to obtain staff portraits for its new website. Weil and his team worked with our photo staff to art direct a photography session that met the needs of the new website. We set up a photo shoot on location at Private Vista's offices, and staff members were photographed over the course of three days. Private Vista then selected images based on the goals of the larger website project.
Outcome
Private Vista's staff portraits—showcasing vibrant, engaged employees—are displayed on its new website, which is now the primary information hub for the company.
In addition to the success of the imagery, Weil also enjoyed how customizable the photo sessions were. "The photo staff really did a lot of work to understand our marketing team's vision for the final photos on our website," he says. "It was a tough mission to execute on our vision, but ultimately we were very happy with the final results."
"Having both a project manager as well as an actual photographer was fantastic. They were both very responsive and personable; it was very easy to work with both of them," Weil says.
"A huge value for us was to have the photographer on site," Weil says. "It was so much nicer to work with her directly than at a standard photography studio. Each employee could see the photographs immediately and mention the ones they liked."